Chiropractor Portland OR
Berntsen Chiropractic PC
chiropractic care for a better lifestyle
Welcome to Berntsen Chiropractic PC located in Portland. You want pain relief. The good news is that as a Portland chiropractor I have been helping patients get the results that they're looking for, for 31 years. Because pain is so unpleasant, we take great pride and satisfaction in helping you be rid of it. We provide powerful healing with no opioids. Knowledge, skill, and experience are what guides us in our quest to bring you back to a healthy state. We have you back to work and making a living again, as soon as possible.
Car accidents, work comp. injuries, snowboarding injuries, etc. are exactly what we are best in helping with. We are experts with neck and back pain, headaches, sciatica and chronic pain.
We hope to make your acquaintance as soon as possible, so we can use our tried and proven methods to make your life better.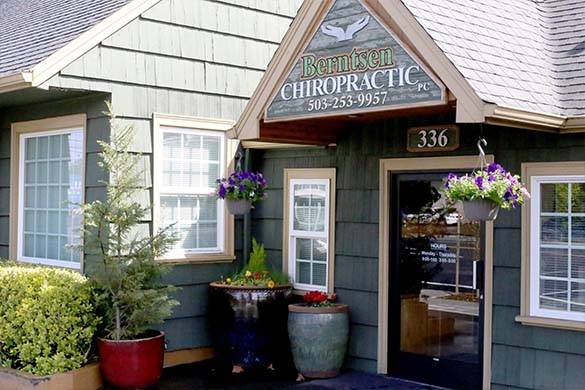 POWERFUL HEALING - OUTSTANDING RESULTS
Chiropractic is one of the most amazing healthcare professions, but very few people understand what it's all about. Chiropractic care is the practice of using spinal alignment to alleviate a wide variety of physical ailments, including muscle strain, neck pain, chronic back pain, and more. This is accomplished by adjusting the position of the spinal column to its proper shape, providing a non-invasive solution for pain relief
Common Chiropractic Questions I Hear
I am a doctor who specializes in treatment of the spine, which includes neck and back conditions. Your spine is at the very core of your body, and it is very important for your structural strength. Most of your nervous; system passes through the spine and the vertebrae that make up the spinal column protect and help maintain the integrity of your nervous system Neck and back pain usually means that you have a structural problem with your spine and some degree of pressure on your nerves. It's difficult to be in pain and try to function, let alone enjoy your life If you need help healing your pain and injuries, come and see me, because I' d like to help. Chiropractic Is the natural approach to pain relief and better health. It ' s tempting to use prescription drugs to mask the pain and hope that things will mend on their own My job is to find the root cause of your pain and help you heal from the inside out.
I learn about you and your health history and how you injured yourself or acquired your chronic pain. I examine you for the following: posture, spinal Joint alignment, range of motion, muscle, ligament, disc and nerve function. If necessary, I take x-rays so that we can look directly at your spine and make better decisions about your care. Like the visible part of an iceberg, your symptoms are obvious. Yet there can be years of hidden and undetected spinal problems under the surface. I have 32 years of experience and expertise to help you heal
These events are quite shocking and when you're in a lot of pain, you're thinking, now what? Because car collision injuries often cause damage to the joint s, muscles, ligaments, nerves, discs, and the brain, chiropractic care is a very logical choice. Medical research shows that patients who begin with chiropractic care earlier heal faster. Our treatment for injuries or chronic pain is designed to decrease pain and inflammation, get your spine strong and healthy again, and get you back to work and a normal life.
Sciatica refers to pain, numbness, tingling or weakness caused by compression or irritation of one of the nerves that run from your lower back, down your legs, to your feet. It frequently comes on gradually, is on one side and gets worse with standing and sitting. Bed rest usually makes It worse and pain pills and muscle relaxants often don't work. Fortunately, sciatica frequently responds to safe, natural chiropractic care. A 1993 study concluded that "There would be highly significant cost savings if more management of low back pain was transferred from MD's to chiropractors." Chiropractic physicians are skilled and successful in healing sciatica.
Spinal and postural evaluations essential for growing kids. If injuries from contact sports or developmental disorders such as scoliosis are detected early, the chances are good for preserving your precious child's health, at a lower cost. Our clinic can be a great resource for keeping your whole family well.
If you would like to facilitate the growth of your baby by providing it as much space as possible throughout your pregnancy, then you need to maintain a balanced pelvis. If you are having back pain, hip pain and joint pain, then chances are that your low back and pelvis need treatment. Women have appreciated my being able to help them up to the day they deliver their baby.
At Berntsen Chiropractic PC our chiropractic team is ready to meet with you to discuss your needs. We will help to design a program that is right for you. We look forward to meeting you.